The NBN & your Home Alarm or Business Security System
Citiguard installs compatible security alarm devices that will allow NBN alarm monitoring back to base via the NBN network.
What is the NBN?
The National Broadband Network (NBN) is a next-generation broadband network designed for Australia's future needs. It will provide faster, more reliable broadband access to all Australian homes and businesses through a mix of three technologies: optic fibre, fixed wireless and next-generation satellite.
The NBN is also the biggest telecommunications reform in Australia's history.
It means fairer infrastructure access for service providers, greater retail competition and more choice with services for families and businesses.
How will the NBN affect your alarm monitoring?
Most traditional alarms currently rely on copper wire phone line services and should continue to work following migration to the NBN, however they may not be able to send alarms to our monitoring centre in the unlikely event of a power outage, due to restrictions on the NBN equipment.
Citiguard can connect your existing alarm to the NBN or quote you on a new system compatible with NBN requirements. If you would rather not connect to the NBN we can offer alternative methods of getting your alarm system to report back to base including GPRS or GSM reporting
Contact us so we can tailor an NBN alarm system to suit you and your budget.
The following is a typical device we can install on existing alarms to allow it to report over the NBN Network.
PM 45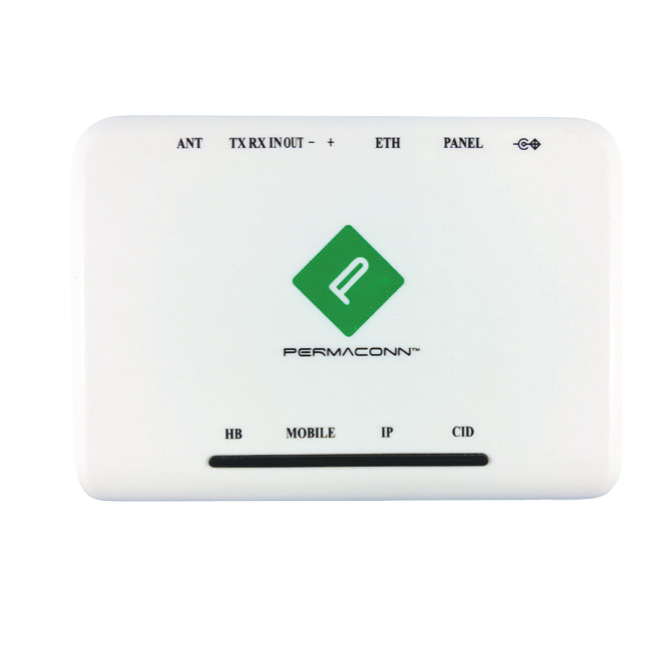 The Permaconn solution provides a constant secure link between the supervised premises and the Central Station.
The PM45 and PM45-3G is a versatile alarm communicator that reports on 3G, GPRS and IP to the Central Station.
This unit can interface with a range of alarm panels using Contact ID. Primary alarm path is IP, followed by 3G/GPRS in the event of a wired ethernet failure. If no IP connection exists the communicators will report on GPRS or 3G only.
The choice is simple. The choice is Permaconn
Key Features
| | | |
| --- | --- | --- |
| Dual SIM + IP alarm communicator | Plug & Play solution | Interfaces with any Contact ID alarm panel |
| 1 input + 1 output, function control using Atlas and/or Pocket Secure | Low cost hardware solution for NBN or Naked DSL services | PM45-3G communicates on 3G & GPRS networks |
Additional Features
Small size – Fits inside alarm panel enclosure and suitable for ATM & M2M applications
Secure VPN within Optus & Telstra networks – Dedicated for Permaconn events only
AES128 encryption for alarm data – Secure transmissions over the public internet
High speed RS232 Interface – Future development
PM45 acquires an IP address automatically using the customers DHCP service. No IT headache
Various diagnostic LEDs – Easy installation
Activate, commission and diagnose using Atlas – Seamless installation process
Three (3) dedicated paths of communication – Uptime in excess of 99.9%
Internal watchdog reset function – No unnecessary service call-outs
Monitors & reports dialler interface lead status – Panel dialler to Permaconn interface secure
AS/NZ2201.5:2008 compliance
Housing Material
ABS Plastic – white
Dimensions
110mm (h) x 25mm (d) x 80mm (w)
Weight
0.12Kg
Operating Environment
0°- 50°C @15% to 85% humidity (non-condensing)
Antenna
Triple band 3G & Dual band GPRS
Modem
PM45: Cinterion MC-37 or MC-55
PM45-3G: Cinterion PH8-P
Power
8 – 15V DC. Terminal or plug pack socket available.
Plug pack must have approval
Power Consumption
PM45

Standby: 0.08A @13.8V DC
Transmitting: 0.19A @13.8V DC

PM45-3G

Standby: 0.08A @13.8V DC
Transmitting: 0.19A @13.8V DC

Communication Protocol
Ethernet (10/100BASE-T)
Network Protocol
DHCP or Static IP
Serial Port
High Speed RS232 interface
Auxiliary Input
1 x 24Hr input – state change detected every second. EOL 3.3K
Auxiliary Output
1 x Open Collector output @ 50mA (max)
Function control using Atlas web portal and/or Pocket Secure
Static IP Network Configuration
Ethernet interface using IpSetup program
Atlas web portal using GPRS/3G connection
Approvals
EN301489, EN301908, EN62311, EN60950-1